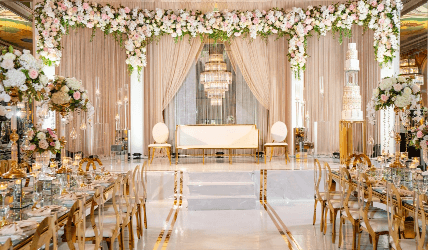 White Dance Floor Wrap Explained
Your wedding day is a celebration of love, style, and personalization. Every detail matters, and one element that often gets overlooked is the dance floor. But what if we told you that you could turn this often overlooked space into a breathtaking centerpiece that leaves a lasting impression on your guests? Enter the world of printed floor wraps by Special Print, where elegance, customization, and wow factor collide. In this blog post, we'll explore the endless possibilities of dance floor wraps and provide essential tips for choosing the right vendor to bring your vision to life.
The Power of Dance Floor Wraps: At Special Print, we believe that your dance floor should be more than just a functional space—it should be an art form. Our dance floor wraps offer two popular options to transform your reception into an unforgettable experience.
Classic White Dance Floor Wrap: For a touch of sophistication and elegance, our classic white dance floor wrap is the perfect choice. Featuring a beautifully designed monogram in the center, it adds a timeless and clean look to any wedding style. This classic option complements a variety of themes and creates a focal point that sets the stage for an extraordinary celebration.

Full Custom Print Dance Floor Wrap: If you're looking to make a bold statement and truly personalize your wedding reception, our full custom print dance floor wraps are your answer. With this option, the possibilities are endless. From replicating luxurious marble floors to capturing the charm of cobblestone streets or showcasing intricate floral designs, we can bring any setting to life on your dance floor. Choose from eye-catching options like checkerboard patterns or sleek chrome finishes for a modern twist. Let your imagination run wild as we transform your dance floor into a work of art.
Choosing the Right Vendor: When it comes to selecting a vendor for your dance floor wrap, price alone should not be the deciding factor. As a rule of thumb, if a price seems too good to be true, it probably is. Cheaper vendors may cut corners, resulting in damaged floors, the use of incorrect vinyl, or designs that fall short of your expectations. Avoid these potential pitfalls by following these essential tips:
Prioritize Quality and Expertise: Review the vendor's portfolio, read client reviews, and request samples or visit events where they have provided their services. Ensure that the vendor's designs align with your vision and that the overall quality of their work meets your standards.

Verify Safety Measures: Ask the vendor about the materials they use and whether they are hall-approved. Slippery surfaces can pose safety hazards, so it's crucial to work with a vendor who takes precautions to prevent accidents and damage.

Consider Customization Options: Discuss your ideas and requirements with the vendor to ensure they can bring your vision to life. A reputable vendor should be able to provide guidance and expertise to create a customized dance floor wrap that reflects your style and captures the essence of your special day.
Your wedding day deserves nothing but the best, and with printed floor wraps, you can elevate your reception to new heights. Whether you choose the classic white dance floor wrap for an elegant touch or the full custom print option for a bold statement, Special Print is committed to exceeding your expectations. Remember, selecting a vendor based solely on price can lead to disappointments and potential safety hazards. Prioritize quality, expertise, and customization options to ensure your dance floor becomes a captivating canvas for you and your guests to dance the night away. Contact us today and let us create a breathtaking centerpiece that will leave a lasting impression on your wedding day.