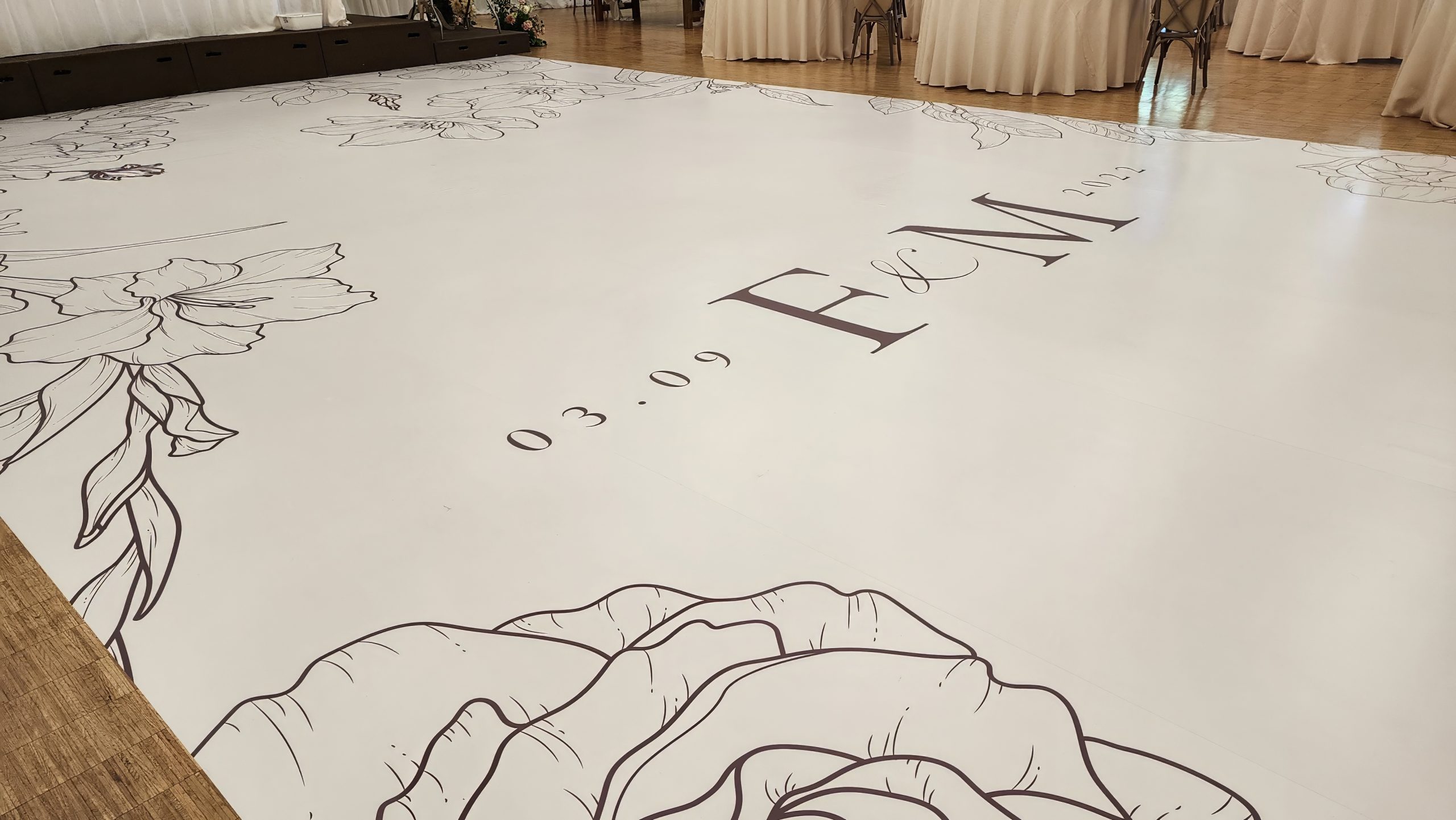 Dance in Style:
At Special Print, our dance floor wraps are the epitome of elegance and personalization. We offer two popular options to transform your dance floor into a stunning focal point that will leave a lasting impression on your guests.
First, our classic white dance floor wrap features a beautifully designed monogram in the center, adding a touch of sophistication to your reception. This timeless choice creates a clean and elegant look, perfect for any wedding style.
If you're looking to make a bold statement, our full custom print dance floor wraps are the way to go. With this option, the possibilities are endless. From replicating a luxurious marble floor or a serene walk in the woods surrounded by greenery, to capturing the charm of cobblestone streets or showcasing intricate floral designs, we can bring any setting to life on your dance floor. We even offer eye-catching options like checkerboard patterns or sleek chrome finishes for a modern twist.
The dance floor wrap is not just a decorative element; it provides the ultimate wow factor for your wedding. Covering a large area of the reception space, it acts as a captivating canvas for you and your guests to dance the night away. With its transformative power, it completely changes the look and feel of any venue, turning an ordinary floor into a work of art.
Adding a custom monogram to your dance floor wrap elevates its impact even further. Whether it's your initials or full names, along with the venue and date, this personalized touch creates a stunning backdrop for your wedding photography, capturing beautiful memories that will be cherished for years to come.
Rest assured, we prioritize the quality of our dance floor wraps. We use hall-approved vinyl and work closely with numerous venues to ensure a seamless installation process. Additionally, we provide an underlayer that acts as a protective film for hardwood floors, preventing any damage when the vinyl is removed.
The size of the dance floor wrap is tailored to your specific needs, taking into consideration factors such as the hall space, your table setup, the number of guests, and your budget. Our team of experts will guide you through the process, ensuring that every detail is meticulously planned and executed to perfection.
Get ready to make a grand entrance onto a dance floor that reflects your style and captures the essence of your special day. Contact us today to explore the endless possibilities of our dance floor wraps and let us create a breathtaking centerpiece that will leave a lasting impression on your wedding day.